Dusseldorf is the metropolis
of North Rhine-Westphalia
The Clara & Robert building complex is located in the Derendorf district of Dusseldorf. Dusseldorf is the capital city of the most populous German state of North Rhein-Westphalia. The city has a population of over 620,000 including contingents from all over the world. The city's robust economy has attracted a large number of international companies. Dusseldorf is known as a city of fashion and trade fairs and a strong media sector based in its own harbour district and is a major transport hub with Germany's third largest inland port.
Dusseldorf is an important financial centre and stock exchange location. The city's old town boasts it is the "longest bar in the world" with its 250 pubs, bars and restaurants.
The city hosts some 38,000 companies and the wider region comprises 557,000 companies and a catchment area population of 13.5 million within a 50 km radius.
Short distances
to and from work
The river Rhein is just a short walk away. Office occupiers can benefit from the tranquility and relaxed feeling in the green open spaces around the building and along the riverside lawns. There is a range of bars, cafés and shops in nearby Ulmenstrasse and Tannenstrasse and throughout the neighbouring residential areas. There are also several hotels in the vicinity providing superior accommodation for entertaining guests and overnight stays.
Clara & Robert benefit from excellent transport connections. There are public transport stops right outside the door, offering 15 minute journeys to the airport and central railway station. The nearby B1/B7 federal road is one of the city's most important east-west arterial routes. It is just a five minute drive to the A44 and A52 motorways.
Hotels
Restaurants
Shopping
Fitness
Swift connections
in all directions
Dusseldorf benefits from excellent infrastructure and international connections. The major European cities of Amsterdam, Brussels, London, Luxembourg, Paris and Zurich are around an hour's flight time from Dusseldorf Airport.
Over 16 million passengers used Dusseldorf's international airport in 2022, and the trend is rising. The airport offers 140,000 flights annually to 165 destinations in some 70 countries.
There are ICE rail connections to all German destinations and to the Netherlands and Belgium. The central railway station offers 170 long-distance connections daily.
Travel times by train from Dusseldorf
Flight times from Dusseldorf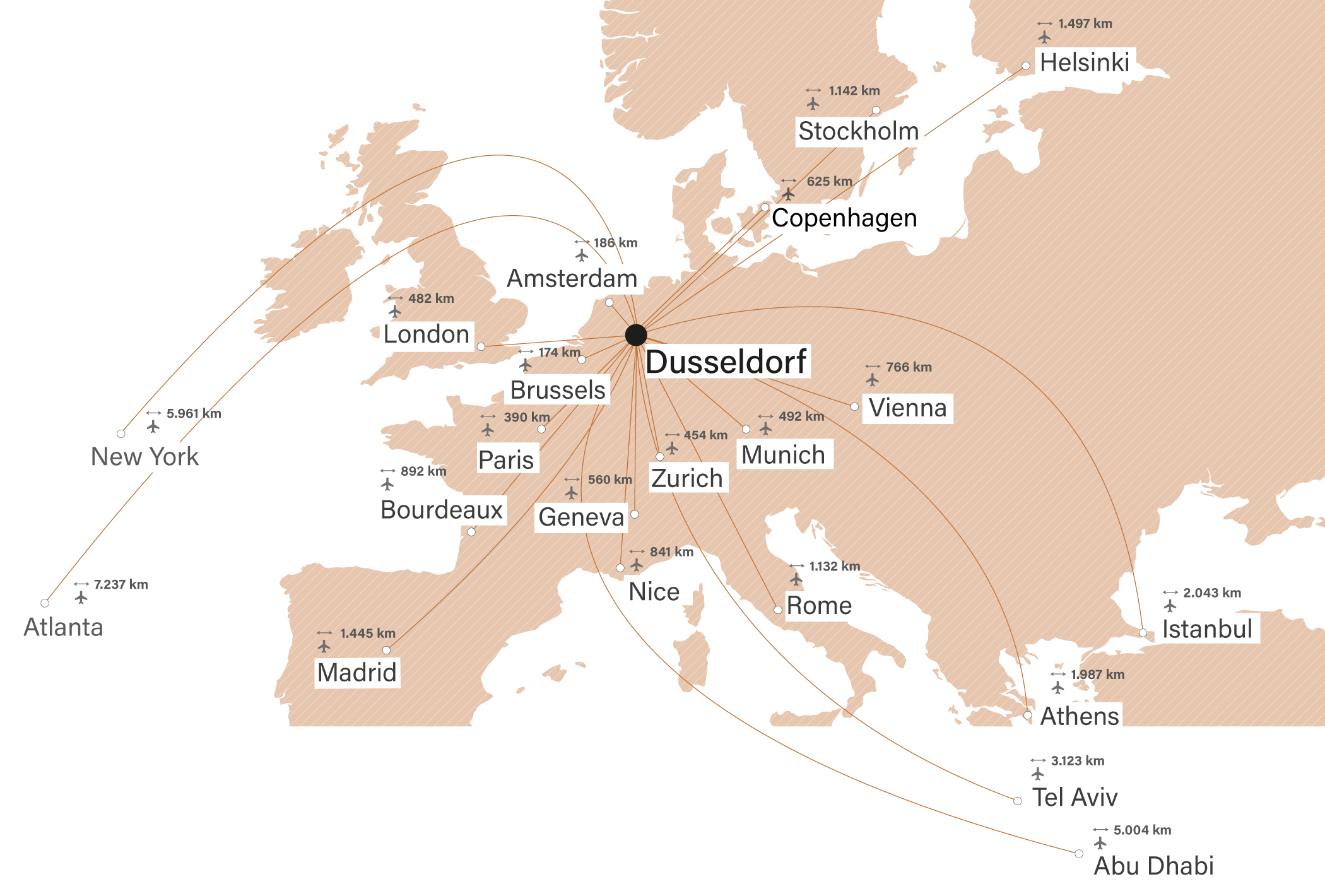 Are you interested in one of our rental spaces?
We look forward to receiving your enquiry.